| | | |
| --- | --- | --- |
| | Français English | |
| | | |
| | | |

Voir le book de photos


Télécharger
le CV au format PDF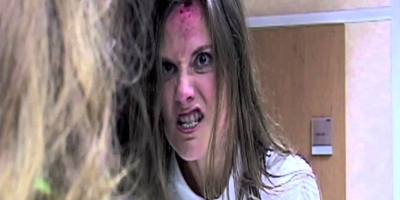 Démo - Showreel 2021
Elena Odessa Ray
Taille : 1m73 Cheveux : roux Yeux : bleu
Sports : Equitation, Tai Chi Chuan et d'autres arts martiaux. Yoga. Escrime (pour le théâtre).
Arts : Chant, (Lyrique, Choral et Gospel) Danse, (Jazz, Classique, improvisation)
Langues parlées : Anglais (maternelle) , Français (bilingue) , Espagnol (parlé)
Nationalité : Américaine, Française


FORMATION / TRAINING:
PHIZSICAL ACTING WORKSHOP dirigé par Susan Harloe.
THEATRE 1 professeur Dan Kozloff
ATELIER AYN RUYMAN, DOUG NUNN & TRACY BURNS Method acting et improvisation.
WAREHOUSE THEATRE COMPANY Atelier Interpreting Shakespeare.
LYNNE & RON WOOD théâtre pour enfants.
S.F. STATE UNIVERSITY Lynnebarbra Mahler, Jameson C. Goldner, Acting devant la caméra.
PARIS 8 UNIVERSITY Patrice Pavis, Jean-Marie Pradier, François Mellet. L'Acteur et son texte. Les exercices d'acteur et Techniques vocales.
SECOND STORY STUDIOS Camille Parsons, Shannon Mallone, Gretchen Shroeder. Jazz, Ballet, Contact and Improvisational dancing.

CINEMA:
GOODBYE MY PARIS HEART de Nick Iacovino
STEVE de Nick Iacovino.
SKIN TERRITORY de Jean Louis David.

TELEVISION:
HARD Canal Plus.
GROLAND. Canal Plus.
RIVER KIDS de Bernard Scho. Rôle: Deborah.
SOURIEZ, VOUS ETES PIEGES (AB)

COURTS METRAGES / SHORT FILMS:
RECYCLAGES de David Simon.
L'ETAT DE LA NATURE de Christopher Glover.
THE EXHIBITIONIST de Lance Tait.
SLAP HAPPY de Lance Tait.
I USED TO BE BAPTISED CHRISTIAN de Lance Tait.
CHENEY'S MAKEOVER de Steve Muse et Bill Dunn.
ROSAS de Michel Derbaz. Rôle: Sarah.
THEATRE DU GRAND GUIGNOL de Georges Guillot. Deux rôles.
LES POMMES RIDEES de Jennifer Plouznikoff. Rôle principal.
ESPACE EXERCICE de Trevor Hunter. Rôle principal.
DIVORCE 911 de Mette Lilliby. Rôle : Rita.
WILL de Richard Limentani. Rôle: Isobel.
PARIS VAMPIRES de Chris Mack. Rôle : Greta.
LE JARDIN SECRET de Jean-Luc Raynaud. Rôle : Laura.
LE SEXE DES NUAGES de Jean Luc Raynaud. Rôle : Serena.

FILMS INSTITUTIONNELS § CORPORATE FILMS:
ALCATEL

INTERNET:
SKETCHS Flush T.V.
WILDE enregistrements d'histoires courtes et de poésies lues à haute voix.

DOCUMENTAIRES / DOCUMENTARIES.
DOCUMENTAIRE SUR LE PENIS pour Canal +.

VOIX / VOICE WORK:
CLYDE CLOSKY voice over for Art installation.
LA CHRONIQUE DES OMBRES série MP3.
SEX IN ADVERTISING de Lance Tait.
THE NAKED NURSE AND THE GIANT MOSQUITO de Lance Tait.
MOTHER MARY AND JOHN THE APOSTLE de Lance Tait.
CROSS KNOWLEDGE Cie., doublage.
FASHION SHOW voix off.
Doublage des longs metrages.

PUBLICITES / COMMERCIAL:
ROMAIN AFFLELOU photos presse.

THEATRE :
BUFFALO BILL'S WILD WEST SHOW Eurodisney. Rôle Annie Oakley.
LE PROPHETE de Khalil Gibran m.e.s. Véronique Dimicoli. Rôle: Almitra. Paris et tournée en Corse et France.
SORA, UNE NUIT UN CHEMIN m.e.s. No-Yon Kwon Schneider. Rôle: Sora. Festival Paris mois d'août.
DES POISSONS DANS UN BOCAL m.e.s. Yoan Giansetto. Rôle: Marianne.
TREEMONISHA (Opéra) m.e.s. Lester McNutt. Rôle: Chorus. Théâtre Darius Milhaud.
ELLE EST LA m.e.s. Sarah Leaf. Rôle : H3. Cyber Act Théâtre.
LES CAPRICES DE MARIANNE m.e.s. Michel Jouniaux. Rôle : Marianne. Espace 61 St. Honoré.
A MIDSUMMER NIGHT'S DREAM m;e.s. Kim-Michelle Broderick. Rôle: Helena. Studio Théâtre Comédie Française. Et UNESCO
THE CRUCIBLE m.e.s. Meg Patterson. Rôle: Abigail. Warehouse Theater Co.
THE DREAM PROJECT m.e.s. Ron & Lynne Wood. Rôle: Reason. Kaleidoscope Players.
LOVERS AND OTHER STRANGERS m.e.s. Melvin Gilbert. Rôle: Susan. Mendocino Theatre Co.
PRELUDE TO A KISS m.e.s. Paul Townsend. Rôle: Rita. Mendocino Theatre Co.
PYSCHO MONKEY ON PLANET EARTH m.e.s. Doug Warner. Rôle: Chorus. Fire & Ice Productions.
WOMEN BEWARE WOMEN m.e.s. Dan Kozloff. Rôle: Isabella. Helen Schoeni theater.

DIVERS / MISCELLANEOUS:
Professeur de Théâtre pour enfant.
Théâtre de Rue en France, Espagne, Portugal et USA.
Improvisation et courtes scènes au Salon de Hissa De Urkiola Ile Saint Louis Paris régulièrement.